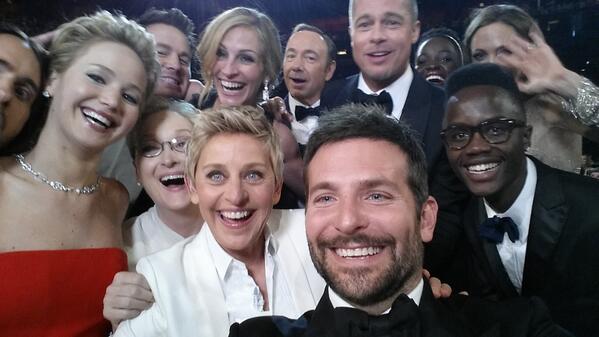 Comme pour les Golden Globes, ce 46ème palmarès a peu surpris, La Reine des Neiges – que je n'ai pas vu parce que je n'ai plus 10 ans/je n'ai pas de gosses/j'ai des testicules – partait favori et je connais même des mecs qui ont overkiffé la chanson du film (au point de l'apprendre à la grat') bien que indubitablement, le "Happy" de Pharrel est plus pertinent culturellement parlant. Faut pas chercher, ils ont l'age de tes grands-parents morts de démence les votants. Moi perso j'ai arrêté. J'ai arrêté d'en avoir quelque chose à cogner parce que chaque année, depuis mon premier anniversaire, où Retour Vers Le Futur perdait contre un film que tout le monde a oublié et que personne n'a vu, et où j'aurais déjà du comprendre, c'est toujours pareil. Et on en repart en se disant qu'on vit dans un monde où Gadsby! a deux oscars, et The Act of Killing, La Vie d'Adèle, Prisoners et The Grandmasters, aucun, rien, niet, nada, betsuni, tidak ada, peau d'zob, que dalle. Et RIP Phillip Seymour Hoffman, RIP Harold Ramis, et RIP Alain Resn… ah non rien pour Alain Resnais, bah c'est sympa.
Gravity est un film à mon sens compétent, quoique redondant, mais par instants, surtout dans la première demi-heure, virtuose et vertigineux. Kudos pour tous ces prix techniques, parce que c'est mérité (la bande musicale est redoutab'e, la bande sonore immersive et imparab'e, comme son montage, ses images, sa mise en espace et ses effets spéciaux) c'est pas le film de l'année quand on a l'avantage d'en voir beaucoup (et donc des mieux) cependant je ne peux que m'abaisser devant son succès publique et critique (qui pardonne facilement un scénar qui tient sur un slibar d'astronaute) et admettre que c'est un peu comme Avatar, un film qui marquera l'histoire du cinéma et qu'on oubliera pas de sit… Mais si Avatar, souvenez-vous, le remake sf de Pocahontas, avec des hommes-chats bleus. mais non, pas Ferngully. Je te l'accorde ça y ressemble mais c'ui-ci il était en images de synthèse avec des acteurs et tout, et en vraie 3D ! Et je ne sous-entends pas que Gravity est un peu comme Seul Au Monde dans l'espace, sans les dialogues mais avec George Clooney dans le rôle du ballon de volley.
Quant à 12 Years A Slave, bah je ne l'ai pas vu, et je ne sais pas si je le verrai, parce que j'étais suspect quand à la capacité de nuancer de Steve McQueen (dont j'adore les films, mais pas pour leur nuance) sur un sujet aussi manipulateur que celui-ci, et oui bla bla bla c'est important, devoir de mémoire, et alors comme quoi les esclavagistes sudistes font d'aussi bons méchants que les nazis, mais hey si c'était vrai Django Unchained aurait eu un césar comme Inglorious Basterds et là t'es bien feinté!
Bref, pour ce qui est des trucs qui font plaisir même si au vu des golden globes, c'était encore une fois tout sauf une surprise, Jared Leto remportant la statuette du meilleur second rôle, Alfonso Cuarón celle du meilleur réalisateur – parce que merde, j'ai beau dire, le mec est quand même sacrément doué – et Spike Jonze récompensé pour le scénario original de Her (oui, fils de Alfonso Cuarón, c'est un métier, scénariste, pas un gène), La Grande Bellezza (même si le film a un an), Cate Blanchett parce que justement, il fallait bien refroidir la fougue des Golden Globes et leur trip sur American Hustle pa'c'que c'est les oscars on est sérieux, là oh ! Même si au passage hein, si y'avait bien une fois où Meryl Streep ne méritait pas d'être nominée, bah c'était celle-là, c'qui prouve que hein… ouais… on s'comprend…
Mais surtout Matthew McConaughey, que l'Académie est forcé comme nous tous, comme Dieu Tout Puissant, de reconnaître comme l'acteur de l'année, pour Dallas Buyers Club, mais aussi pour Mud, pour Killer Joe et Magic Mike l'an passé, et, et, et, pour True Detective. Ce qui me fait penser on est dimanche. Je dois… voilà on fait comme ça… on… oui… on s'rappelle…
MEILLEUR FILM
American Bluff
Captain Phillips 
Dallas Buyers Club
Gravity
Her
Nebraska
Philomena 
12 Years a Slave,
Brad Pitt, Dede Gardner, Jeremy Kleiner, Steve McQueen et Anthony Katagas
Le Loup de Wall Street
MEILLEURE RÉALISATION
American Hustle David O. Russell
Gravity Alfonso Cuarón
Nebraska Alexander Payne
12 Years a Slave Steve McQueen
Le Loup de Wall Street Martin Scorsese
MEILLEUR ACTEUR PRINCIPAL
Christian Bale dans American Bluff
Leonardo DiCaprio dans Le Loup de Wall Street
Matthew McConaughey dans Dallas Buyers Club
Bruce Dern dans Nebraska
Chiwetel Ejiofor dans 12 Years a Slave
MEILLEURE ACTRICE PRINCIPALE
Amy Adams dans American Bluff
Cate Blanchett dans Blue Jasmine
Sandra Bullock dans Gravity
Judi Dench dans Philomena
Meryl Streep dans Un été à Osage County
MEILLEUR ACTEUR SECOND RÔLE
Barkhad Abdi dans Captain Phillips
Bradley Cooper dans American Bluff
Michael Fassbender dans 12 Years a Slave
Jonah Hill dans Le loup Wall Street
Jared Leto dans Dallas Buyers Club
MEILLEURE ACTRICE SECOND RÔLE
Sally Hawkins dans Blue Jasmine
Jennifer Lawrence dans American Bluff
Lupita Nyong'o dans 12 Years a Slave
Julia Roberts dans Un été à Osage County
June Squibb dans Nebraska
MEILLEUR SCÉNARIO ORIGINAL
American Hustle écrit par Eric Warren Singer et David O. Russell
Blue Jasmine écrit par Woody Allen
Dallas Buyers Club écrit par Craig Borten & Melissa Wallack
Her écrit par Spike Jonze
Nebraska écrit par Bob Nelson
MEILLEUR SCÉNARIO D'ADAPTATION
Before Midnight écrit par Richard Linklater, Julie Delpy, Ethan Hawke
Captain Phillips écrit par Billy Ray
Philomena écrit par Steve Coogan et Jeff Pope
12 Years a Slave écrit par John Ridley
Le loup de Wall Street écrit par Terrence Winter
MEILLEUR DOCUMENTAIRE
The Act of Killing – L'acte de tuer, Joshua Oppenheimer et Signe Byrge Sørensen
Cutie and the Boxer, Zachary Heinzerling et Lydia Dean Pilcher
Dirty Wars, Richard Rowley et Jeremy Scahill
The Square, Jehane Noujaim et Karim Amer
20 Feet from Stardom, Morgan Neville.
MEILLEUR COURT MÉTRAGE DOCUMENTAIRE
CaveDigger, Jeffrey Karoff
Facing Fear, Jason Cohen
Karama Has No Walls, Sara Ishaq
The Lady in Number 6: Music Saved My Life, Malcolm Clarke et Nicholas Reed
Prison Terminal: The Last Days of Private Jack Hall, Edgar Barens
MEILLEUR COURT MÉTRAGE
Aquel No Era Yo, Esteban Crespo
Avant Que De Tout Perdre, Xavier Legrand et Alexandre Gavras
Helium, Anders Walter et Kim Magnusson
Pitääkö Mun Kaikki Hoitaa? (Do I Have to Take Care of Everything?) Selma Vilhunen et Kirsikka Saari
The Voorman Problem, Mark Gill et Baldwin Li
MEILLEUR COURT-MÉTRAGE D'ANIMATION
Feral Daniel Sousa et Dan Golden
Get a Horse! Lauren MacMullan et Dorothy McKim
Mr. Hublot Laurent Witz et Alexandre Espigares
Possessions Shuhei Morita
Room on the Broom Max Lang et Jan Lachauer
MEILLEUR FILM D'ANIMATION
The Croods Chris Sanders, Kirk DeMicco et Kristine Belson
Moi, Moche et Méchant 2 Chris Renaud, Pierre Coffin et Chris Meledandri
Ernest & Celestine Benjamin Renner et Didier Brunner
La Reine des Neiges Chris Buck, Jennifer Lee et Peter Del Vecho
Le vent se lève Hayao Miyazaki et Toshio Suzuki
MEILLEUR FILM EN LANGUE ÉTRANGÈRE
Alabma Monroe Belgique
La Grande Bellezza Italie
La Chasse Danemark
L'image Manquante Cambodge
Omar Palestine
MEILLEURE BANDE ORIGINALE
La Voleuse de Livres John Williams
Gravity Steven Price
Her William Butler et Owen Pallett
Philomena Alexandre Desplat
Dans l'Ombre de Mary Thomas Newman
MEILLEURE CINÉMATOGRAPHIE
The Grandmaster Philippe Le Sourd
Gravity Emmanuel Lubezki
Inside Llewyn Davis Bruno Delbonnel
Nebraska Phedon Papamichael
Prisoners Roger A. Deakins
MEILLEUR MONTAGE
American Bluff Jay Cassidy, Crispin Struthers et Alan Baumgarten
Captain Phillips Christopher Rouse
Dallas Buyers Club John Mac McMurphy et Martin Pensa
Gravity Alfonso Cuarón et Mark Sanger
12 Years a Slave Joe Walker
MEILLEURE DIRECTION ARTISTIQUE

American Bluff
Gravity
Gatsby Le Magnifique
Her
12 Years a Slave
MEILLEURS COSTUMES
American Bluff Michael Wilkinson
The Grandmaster William Chang Suk Ping
Gatsby Le Magnifique Catherine Martin
The Invisible Woman Michael O'Connor
12 Years a Slave Patricia Norris
MEILLEUR MAQUILLAGE ET COIFFURE
Dallas Buyers Club Adruitha Lee et Robin Mathews
Bad Grandpa Stephen Prouty
Lone Ranger Joel Harlow et Gloria Pasqua-Casny
MEILLEURE CHANSON ORIGINALE
Happy tirée de Moi, Moche et Méchant 2. Paroles et Musiques de Pharrell Williams.
Let It Go tirée de La reine des neiges. Paroles et musiques de Kristen Anderson-Lopez et Robert Lopez
The Moon Song tirée de Her. Musique par Karen O, Paroles de Karen O et Spike Jonze
Ordinary Love tirée de Mandela : Un long chemin vers la liberté. Paroles et musique : U2.
MEILLEUR MONTAGE SONORE
All Is Lost Steve Boeddeker et Richard Hymns
Captain Phillips Oliver Tarney
Gravity Glenn Freemantle
Le Hobbit la désolation de Smaug Brent Burge
Lone Survivor Wylie Stateman
MEILLEUR MIXAGE SONORE
Captain Phillips Chris Burdon, Mark Taylor, Mike Prestwood Smith et Chris Munro
Gravity Skip Lievsay, Niv Adiri, Christopher Benstead et Chris Munro
Le Hobbit: La Désolation de Smaug Christopher Boyes, Michael Hedges, Michael Semanick et Tony Johnson
Inside Llewyn Davis Skip Lievsay, Greg Orloff et Peter F. Kurland
Du sang et des larmes Andy Koyama, Beau Borders et David Brownlow
MEILLEURS EFFETS SPÉCIAUX
Gravity Tim Webber, Chris Lawrence, Dave Shirk et Neil Corbould
Le Hobbit: La Désolation de Smaug Joe Letteri, Eric Saindon, David Clayton et Eric Reynolds
Iron Man 3 Christopher Townsend, Guy Williams, Erik Nash et Dan Sudick
Lone Ranger Tim Alexander, Gary Brozenich, Edson Williams et John Frazier
Star Trek Into Darkness Roger Guyett, Patrick Tubach, Ben Grossmann et Burt Dalton